BY THE CITIZEN-STANDARD STAFF
Published: August 18, 2011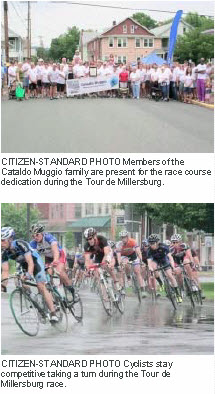 MILLERSBURG - Bicyclists from across the nation brought their competitive edge to this Dauphin County community for the Tour de Millersburg on Aug. 13-14.
According to Event Coordinator Christopher Dietz, there were205 riders registered to race. He called the event a "great success".
The weekend festivities included time trials, safety courses offered by the Millersburg Police Department, musical entertainment and various smaller races, in addition to the main event – the road race. A new course, in memory of Cataldo Muggio, debuted this year as version 5.0 of the Tour de Millersburg Criterium. Members representing the Muggio family were present for the competition.
Race results are listed below.
STAGE RACE (top five finishers only)
Listing place, name, hometown, time, team:
8-14-11
WOMEN CAT 4
Jacqueline McClure Malvern, PA 165 Breakawaybikes.com-IFRACTAL
VENI ERCEGOVIC New York, NY 146 Gotham Girls Racing
Jackie McKay Erie, PA 143 Team Competitive Gear
Sabina Olenchock Bethlehem, PA 143 Lamprey Systems
Lara Marek Philadelphia, PA 141 Sturdy Girl Cycling
WOMEN CAT 1/2/3
Christine Schryver Rochester, NY 163 Full Moon Vista
Kathleen Giles (1 – Cat2) Solomons, MD 153 ABRT
Erin Silliman Richmond, VA 143 VA Asset Group p/b Artemis/Trek
Stacey Jensen Brooklyn, NY 141 Kenda p/b Geargrinder
Jenny Ives Saratoga Springs, NY 136 Farm Team Elite Women
MEN CAT 1/2/3
Jacob Mueller Skippack, PA 151 Kelly Benefit Strategies/LSV
Blair Berbert Washington, DC 143 Kelly Benefit Strategies/LSV
Ryan Shebelsky Elizabethtown, PA 142 Team Alliance Environmental
Zack Noonan Kutztown, PA 135 FCS Cycling Team
Jamie Clinton Columbia, PA 130 Team Alliance Environmental
MEN CAT 3
Justin Mauch Sterling, VA 156 HPC/LIST
Ryan Rapolas Phoenixville, PA 153 Breakawaybikes.com-IFRACTAL
Brian Sjoberg Crofton, MD 143 Bike Doctor
Calvin Hoops Philadelphia, PA 136 Shirk's Racing Presented by Trek
Andrew Shelby Arlington, VA 129 WWVC Racing
MEN CAT 4
Peter Hoag Dansville, NY 160 CNB-GVCC
Jeff Godfrey New Providence, PA 149 Thru-It-All Body Shop Inc.
Vincent Lorenz West Seneca, NY 126 The Bike Shop/Northtowns Imaging
Chris Flegal New Cumberland, PA 124 Mountainside p/b City Islanders
Daniel Cleiman Newyork, NY 123 CRCA/siggi's/NYVelocity
ROAD RACE 8-14-11
MEN 1/2/3 (72 MILES)
Jacob Mueller (1 – Cat1) Skippack, PA 2:41:35 Kelly Benefit Strategies/LSV
Brett Kielick (2 – Cat1) Philadelphia, PA Breakawaybikes.com-IFRACTAL
Blair Berbert (3 – Cat1) Washington, DC Kelly Benefit Strategies/LSV
Colin Jaskiewicz (4 – Cat1) Upper Montclair, NJ Boston Bicycle School
Ryan Shebelsky (5 – Cat1) Elizabethtown, PA Team Alliance Environmental
MEN -03 (54 MILES)
Ryan Rapolas Phoenixville, PA 2:08:54.0 Breakawaybikes.com-IFRACTAL
Andrew Shelby Arlington, VA WWVC Racing
Glenn Ferreira Little Silver, NJ WBI Funds Cycling Team
John Landino Ridgewood, NJ DeathRow Velo
Daniel Rossi Wyndmoor, PA Franklin and Marshall
MEN -04 (54 MILES)
Jeff Godfrey New Providence, PA 2:13:40 317722 207 Thru-It-All Body Shop Inc.
Omar Samaha Arlington, VA 352010 224 VTV Outreach Team
Daniel Cleiman Newyork, NY 304255 197 CRCA/siggi's/NYVelocity
Peter Hoag Dansville, NY 194738 210 CNB-GVCC
Richard Elder Alexandria, VA 333826 200 Squadra Coppi
WOMEN -04 (36 MILES)
Jacqueline McClure Malvern, PA 1:45:02 Breakawaybikes.com-IFRACTAL
VENI ERCEGOVIC New York, NY Century Road Club Association
Jackie McKay Erie, PA Team Competitive Gear
Lara Marek Philadelphia, PA Sturdy Girl Cycling
Stephanie Kaplan New York, NY CRCA/Asphalt Green Cycling Team
MEN -04 (54 MILES)
Jeff Godfrey New Providence, PA 2:13:40 317722 207 Thru-It-All Body Shop Inc.
Omar Samaha Arlington, VA 352010 224 VTV Outreach Team
Daniel Cleiman Newyork, NY 304255 197 CRCA/siggi's/NYVelocity
Peter Hoag Dansville, NY 194738 210 CNB-GVCC
Richard Elder Alexandria, VA 333826 200 Squadra Coppi
WOMEN -04 (36 MILES)
Jacqueline McClure Malvern, PA 1:45:02 Breakawaybikes.com-IFRACTAL
VENI ERCEGOVIC New York, NY Century Road Club Association
Jackie McKay Erie, PA Team Competitive Gear
Lara Marek Philadelphia, PA Sturdy Girl Cycling
Stephanie Kaplan New York, NY CRCA/Asphalt Green Cycling Team
WOMEN 1/2/3 (54 MILES)
Christine Schryver (1 – Cat1) Rochester, NY 2:28:28 Full Moon Vista
Kathleen Giles (1 – Cat2) Solomons, MD n/a ABRT
Stacey Jensen (2 – Cat1) Brooklyn, NY n/a Kenda p/b Geargrinder
Frances Doherty (1 – Cat3) Washington, DC n/a Syn-Fit Race Team
Jenny Ives (3 – Cat1) Saratoga Springs, NY n/a Farm Team Elite Women
CRITERIUM 8-13-11
WOMEN CAT 4
Sarah Neiderer 43:41.0
Jacqueline McClure Malvern, PA n/a Breakawaybikes.com-IFRACTAL
VENI ERCEGOVIC New York, NY n/a Century Road Club Association
Jackie McKay Erie, PA n/a Team Competitive Gear
Lara Marek Philadelphia, PA n/a Sturdy Girl Cycling
WOMEN CAT 1/2/3
Stacey Jensen Brooklyn, NY 1:05:25 Kenda p/b Geargrinder
Erin Silliman Richmond, VA n/a VA Asset Group p/b Artemis/Trek
Laurel Larsen (1 – Cat2) Arlington, VA n/a Syn-Fit Race Team
Christine Schryver Rochester, NY n/a Full Moon Vista
Jenny Ives Saratoga Springs, NY n/a Farm Team Elite Women
MEN CAT 1/2/3
Colin Jaskiewicz Upper Montclair, NJ 1:23:59 Boston Bicycle School
Jacob Mueller Skippack, PA n/a Kelly Benefit Strategies/LSV
Ryan Shebelsky Elizabethtown, PA n/a Team Alliance Environmental
Jamie Clinton Columbia, PA n/a Team Alliance Environmental
Wesley Kline Emmaus, PA n/a Young Medalists/ Team Rothrock
MEN CAT 3
Brian Sjoberg Crofton, MD 57:09.0 Bike Doctor
Justin Mauch Sterling, VA n/a HPC/LIST
Calvin Hoops Philadelphia, PA n/a Shirk's Racing Presented by Trek
Ryan Rapolas Phoenixville, PA n/a Breakawaybikes.com-IFRACTAL
Matt Rosier Arlington, VA n/a NCVC/UnitedHealthcare
MEN CAT 4
Jeff Godfrey New Providence, PA 49:13.0 Thru-It-All Body Shop Inc.
Peter Hoag Dansville, NY n/a CNB-GVCC
Omar Samaha Arlington, VA n/a VTV Outreach Team
Vincent Lorenz West Seneca, NY n/a The Bike Shop/Northtowns Imaging
Daniel Cleiman Newyork, NY n/a CRCA/siggi's/NYVelocity
(Information courtesy of Christopher Dietz. Details supplied by USA Cycling. For more information and a complete list of winners, visit www.usacycling.org and look for Tour de Millersburg.)