BY REBECCA ZEMENCIK
Published: August 4, 2011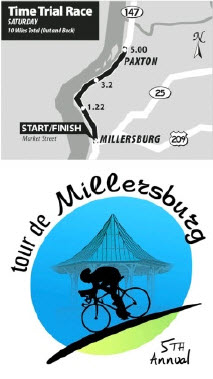 MILLERSBURG - The Tour de Millersburg Executive Committee is gearing up for the third annual event to be held August 13-14 in the borough.
The weekend will include time trials, safety courses, musical entertainment, various smaller races and the main event.
On Saturday, Aug. 13, time trials for the race will begin bright and early at 7:30 a.m. The trials begin at 300 Market Street and racers will leave every 30 seconds.
The 9.5 mile time trial is a mostly flat, out and back course along the Susquehanna River North of town. There is a a 37-foot elevation drop at the edge of town that will help bikers get up to speed. There is a tricky quarter mile climb at the one mile mark with a 28 foot elevation gain to contend with on the way out, and again at the 8.5 mile mark on the way home. Racers will need to make sure they leave enough gas in the tank to cover that last
climb into town near the finish line.
Safety course
The Millersburg Police Department will host a bicycle safety course at 9:30 a.m., Saturday, Aug. 13, on the parking lot of the New Life Center at 350 Center Street. The event is open to all children who would like to learn about bike safety.
Each child will receive a goodie bag and will have the chance to win a door prize. The safety course will cover traffic laws; rules of the roadway; responsibility of parents or guardians; requirements for night time riding; helmets; maintenance of bicycles; slow speed riding drills (three separate courses); obstacle courses; and registration of
bicycles.
Each child must bring their own bicycle to the event. Police officers will inspect the bicycles and helmets for safety prior to participating in the event. The event is open to children of all ages and adults. For more information on the safety course call
the police station at 717-692-2323.
The safety course is being sponsored by Harrisburg Senators, Philadelphia Phillies, Washington Capitals, Capital Blue Cross, Highmark Blue Shield, Dick's Sporting Goods, Pittsburgh Pirates, York Revolution, American Trauma Society, and The Hershey
Bears.
Police Race
After the police have taught the children about safety, they will have the opportunity to demonstrate some safety features to those in attendance. The Police Chase is a race for bragging rights and a trophy fo uniformed police on their official patrol bikes.
The police race will begin at 11:45 a.m. with two laps. This is the second annual police chase.
Cataldo Muggio
Criterium Race
An all new course is being introduced this year, version 5.0 of the Tour de Millersburg Criterium. The new course in memory of Cataldo Muggio, will begin at noon with the start/finish line at 500 Church Street. Organizers say the course is fast overall and
features 90 degree corners.
The race is for men and women and the new course includes two .35 mile legs and two .05 mile legs. The hill around the high school has been eliminated from the course.
Cataldo "Tommy" Muggio was born in Corato, Italy near Naples May 13, 1896; he arrived at Ellis Island on August 27, 1911. He immigrated to Boston in 1912 with his late brother Michael. After moving around Massachusetts and Central Pennsylvania for a few years working in the building trades he came to Millersburg in 1919 while on furlough from the army. There he met his wife, the former Violet Dressler. They raised five boys and five girls; Joseph, Kathryn, Sabelle, Lois, Janet, Thomas, Ralph, Florence, Larry, and Harold. Cataldo died May 25 1979 at the age of 83.
Interested in cycling from his very early youth in Italy, Cataldo saw his greatest success in competitive cycling during the 20′s and 30′s. At one point he was recognized by the Amateur Bicycle League of America as the United States record holder at 20 miles, time (55:20) and at 25 miles, time (1:08:55). He competed with the Century Road Club Association and later as an unattached rider winning the Harry E. Glock Memorial, a 50 mile event which was one of Baltimore's blue ribbon events. Cataldo captured the inaugural event in 1930 and successfully defended in 1931. He was recognized as the Maryland 100 Mile record holder with a time of (5:34:00).
The 1928 Olympics were held in Amsterdam with trials for the US team to be held in Los Angeles. Cataldo was working his way toward those events and finished second in the Maryland State Olympic trials to advance to the Eastern semi-finals. His Olympic dream ended with the Olympic Eastern semi- final bike trials, a 62.5 mile event along the hills and dales of Passaic and Bergen Counties in New York.
Following his competitive days of cycling his energy was directed toward various political activities and he worked tirelessly to promote bicycling, particularly bikeways. He believed fervently that cycling promoted strong bodies and good character especially among youth. His efforts were instrumental in the establishment of a bikeway along Shippen Dam Road. The bikeway was recommended by then Pennsylvania Governor Raymond Shafer and of course was promoted by Cataldo Muggio.
Tour de Millersburg
The main event, the Tour de Millersburg road race will begin at 8 a.m. Men, 1, 2, 3 and Men 3, 4 will be the first of two "rolling enclosures" to go out separated with a five-minute time gap. Men 4 and Women, 1, 2, 3, 4 will be the next two "rolling enclosures," again separated with a 5-minute time gap, at 11:30 a.m.
"Sunday's road race will give the racers a spectacular view of the Northern Dauphin county landscape," said Chris Dietz, a member of the executive committee. "It is high speed, low drag!! Big sets of rollers will have you in the red briefly. Power players will be up to the task. There are some longer climbs but they are not steep. Like little dogs they just keep nipping at you, getting in your head. Brush up on team tactics. Time trialists get the wink but deliver your sprinter and you can steal the show. Like last year we will be using the "rolling enclosure" with lead and follow vehicles driven by the Pennsylvania State Police and the Millersburg Boro Police. Please thank them when you see them. If you have never been in the "bubble" it is really the only way to race. If you get tossed out the back stay to the right and abide by the rules of the road."
Music in the Gazebo
New this year, during the road race, entertainment will be offered at the Gazebo on the  Square in Millersburg, beginning at 11 a.m.
The entertainment schedule is as follows: 11 a.m. to 1 p.m. Walt and Deb – Blue Grass and Folk Music from York; 1 p.m. to 2 p.m. Nick Kadick, Christian Rock from Millersburg.
The musicians will be playing for tips.
Families needed
"We are on tract to surpass the 270 racers that competed last year," said Dietz. "We are still looking for local families willing to host racers for the weekend."
Families interested in hosting racers should contact Julie Hoffman at julia.hoffman@comcast.net. All volunteers will be treated to a spaghetti dinner on Thursday, Aug. 11, at 6:15 p.m. at the New Life Center. Volunteers will receive their T-shirts at that time.
"Thank you to all our volunteers and sponsors including our leading monetary contributors: Dauphin County, Bolig's Propane, Hottenstein Bradenbaugh Trust, William C. and Dorothy T. Troutman Foundation," said Dietz.
Dietz says the committee is on track to surpass the 270 racers that competed last year.